Facials
Our proprietary formulas are specific to each client and incorporate some therapeutic natural products in a nutrient-rich plant complex that enhances skin's health and appearance.
OUR MOOR SPA products have been rated as some of the safest products in the spa industry. They are free of synthetic preservatives, parabens, sulfates, artificial colors, synthetic fragrances and petroleum-derived chemicals, such as PEG, propylene glycol or mineral oil. Every ingredient has a 100% naturally-sourced guarantee and cruelty free!
All CLAYTON SHAGAL products are tested by independent specialized laboratories according to the principles of Good Clinical Practices (ICH-GCP) and under the supervision of dermatologists so that they're guaranteed not to irritate your skin. We are proud that none of our products are tested on animals.
Custom facial treatment

$99

Experience the essence of quality, simplicity, and effective results in our classic collagen facial. An excellent introduction to specialized active-based gels: collagen and elastin. Ideal for a variety of skin types.

Basics express facial

$65

An ideal facial for all skin types using a blend of Clayton Shagal or Moorspa products. Our 40 minute facial delivers a professional deep cleanse exfoliation, leaving your skin feeling refreshed and rejuvenated.

Organic personalized hydrojelly facial

$99

An excellent treatment focused on the deep cleansing of congested skin, seborrheic, and oily skin types which restores skin clarity, tone, and texture.
Dermaplaning
Dermaplaning is a gentle medical skin treatment that is performed by using a surgical blade that gently scrapes the outermost layers of the epidermis, therefore, ridding it of dead skin cells, impurities and debris. This treatment aslo includes Gommage or Enzyme Peel.
Dermaplaning with Mask

$99

Includes; Cleansing, skin prep, dermaplaning, facial mask, finished with skin appropriate product infusion.
What are the Benefits of Dermaplaning?
Provides deeper product penetration
Removes soft facial hair that traps dirt and oils
Promotes smoother skin
Safe procedure for removing dead skin cells and "peachfuzz"
Reduces the appearance of acne scars
Diminishes the look of fine lines
Works on all skin types
Instant results and no downtime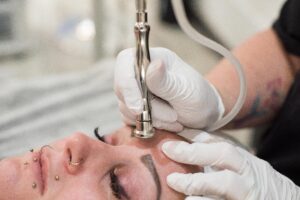 Oxygen Skin Regenerative Peel

$99

Oxygen Skin Regenerating Peel breathes back a youthful life to hypoxic, dull, tired, damaged skin cells. Rich inarabinogalactans derived from botanical plants causes skin to brighten, firm, tone and immediately glow with health. Skin cells rely on oxygen diffusion. This unique, one of a kind oxygenating peel formulation, releases bio-oxygen power aiding inner-cellular diffusion and the benefits of lactic acid for cell regeneration revealing baby smooth, youthful looking skin.